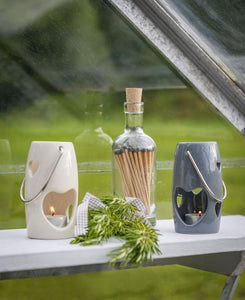 A stylish hanging ceramic tea-light lantern with cut out hearts.
Perfect for bringing a modern touch to any living area and ideal for creating a cosy outdoor space . 
Available in two colours - Cream or Grey
size 12cm h x 6cm w  ( inc handle 18cm h) 
* as these are handmade by artisans minor imperfections are inherent to the manufacturing process and you may expect minor distinctions.
*tea lights not included.