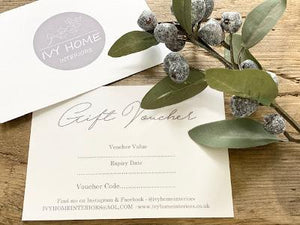 The Gift of Choice
Stuck on ideas for an upcoming birthday, anniversary or wedding present? Or just wanting to provide a gift for someone special to show you care ?
Give them the gift of choice with an Ivy Home Interiors Gift Card.
You will receive your unique discount code voucher by email, with specific instructions on how to redeem at checkout. Posted out free of charge, you will also receive your gift voucher(s) printed on quality card, featuring the Ivy Home Interiors logo.
Gift vouchers are valid for 6 months. If buying for more than one person, please confirm your requirements at order, otherwise a single voucher will be issued for the full value.